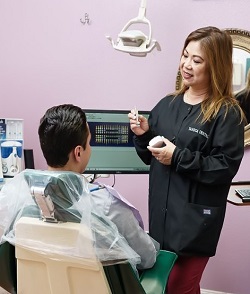 Janet Repane Tanega, D.M.D.
In 1988, Janet Repane Tanega, D.M.D. graduated from Centro Escolar University in Manila, Philippines with a Doctor of Dental Medicine degree (D.M.D). After graduating, she moved to San Francisco, California with her husband and young children. Dr. Tanega worked in every role in a dental office while studying to obtain her California dental license, which she eventually received in 1996. One year later, on March 8th, 1997, Dr. Tanega opened TANEGA DENTAL and had continued to create beautiful smiles in a family-like atmosphere, in the San Francisco Bay Area for over 20 years.
Dr. Tanega's passion for the dental field continues to grow as a regular attendee of continuing education courses. A few accomplishments and awards include:
Mini-Residency in Orthodontics—TMJ, Mid-America Orthodontic Society, 1999
Professional Implant Training Course, Apsun Dental Implant Research, 2008
And Education Center (AIC)
Professional Sinus Surgery Training Courses, AIC, 2008
Voted "Best of the Bay—General Dentist", San Mateo County, 2008
Comprehensive Orthodontics Course, Progressive Orthodontics, 2016
Pain Management & Use of Botulinum Toxin for the Treatment of TMD, 2016
Facial Pain, McGann Postgraduate School of Dentistry, 2016
Dr. Tanega is also an active member of the following organizations:
The American Dental Association (ADA)
The California Dental Association (CDA)
The San Mateo County Dental Association (SMCDA)
The American Academy of Implant Dentistry (AAID)
The International Congress of Oral Implantologists (ICOI)
Redwood City Dental Center Study Club
Dr. Tanega met her husband, Richard G. Tanega, in dental school, as they have been happily married for 35 years. They are proud parents of Helene, RJ, Reece, and Ray; along with four grandchildren—Darien, Jeffrey Jr, Jayda Rae, and Hayden; as well as, two dogs—Coco and Wags.
 Dr. Tanega loves spending time with her family and friends during her free time. She is a regular student at her local Zumba class, and has been known to surprise the Tanega Dental team and patients with freshly baked desserts and homemade cooking!